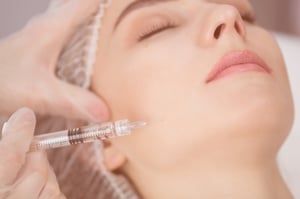 Botox treatment has become a popular choice for many patients to help treat various dental conditions. Dental Care Centre is pleased to offer botox to our patients in Grande Prairie.
What is Botox Used For?
Botox is a drug derived from botulinum toxin A, a bacterium which can be found in a number of natural substances. When administered by injection, botox has been found to be very successful at reducing muscle tension. It has historically been used for the reduction in facial wrinkles.
Beyond its cosmetic benefits, botox has proven to relieve pain associated with various dental conditions. These conditions include TMJ, clenching and teeth grinding (bruxism), and more. Untreated, these conditions can create a host of side effects, including headaches, sore jaws, and damage to your teeth. Botox is a minimally invasive treatment, and, while considered a temporary measure, regular administration can help provide long term relief from pain.
Who can administer Botox?
Dentists require additional education and certification in Botox in order to administer the treatment. Our dentists have completed the required education and hold current certification with the Alberta Dental Association and College to practice botox, so you can be sure that your treatment is in the right hands.
Looking to get rid of those pesky wrinkles? We are also pleased to offer botox for the reduction of face wrinkles to our patients as well, so you can get to looking younger!
Botox in Grande Prairie
Book an appointment today to find out if botox is the right fit for you!